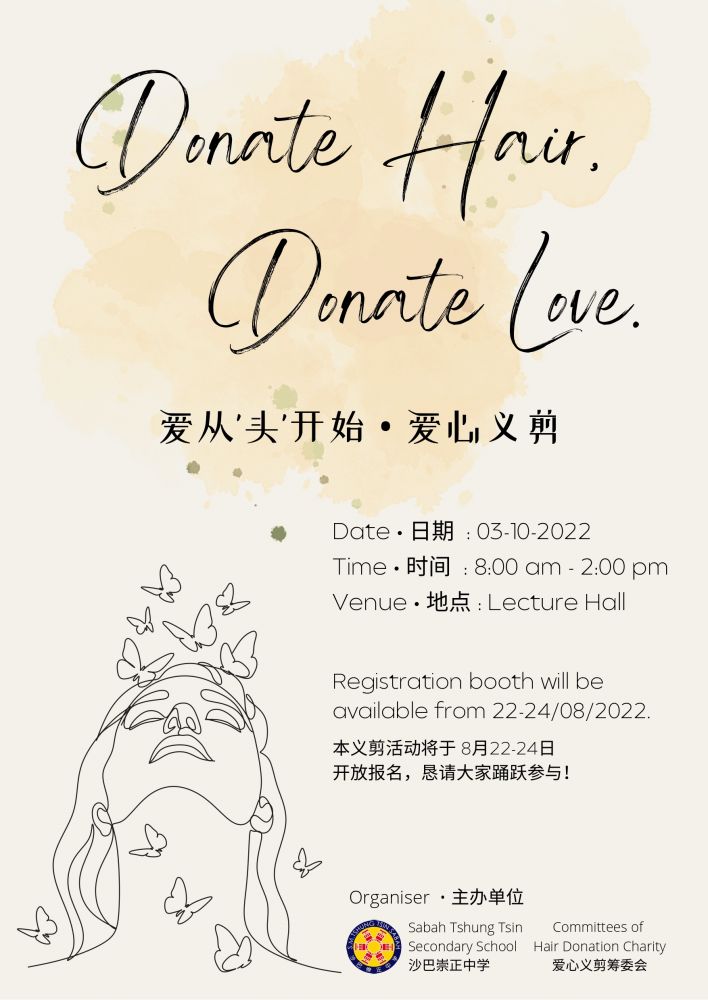 为培养学生的人文关怀精神,善事不限于金钱,更重要的是懂得爱与尊重他人,本校即将举办爱心义剪活动!所有的头发将捐赠予癌症患者制作假发,爱从"头"开始。恳请家长鼓励孩子参加这项富有意义的活动(仅限女同学参与)。
The school is organising the 2022 Donate Hair Donate Love. The purpose of this event is to raise awareness for cancer patients by collecting donated hair that will be turned into wigs. These wigs are for patients undergoing chemotherapy. Female students are encouraged to join this meaningful event.
活动详情如下:
Event details:
日期 Date : 03 Oct 2022( 星期一 Monday )
时间 Time : 8:00 a.m. – 2:00 p.m.
地点 Venue : Lecture Hall 1 and 2
头发要求 Hair Requirements:
• 绑成马尾长度至少6寸(15cm)以上。At least 6 inch (15 cm) long when tied into a ponytail
• 烫发 、染发、电发:接受 6个月后的头发质量。Coloured/Permed/ Rebonded hair can only be donated after 6 months
• 接受自然卷发。Natural curly hair are accepted
• 头发要处于干燥状态。Hair in dry condition
8月22日至24日在树立方和礼堂有摆设登记摊位!
There will be a 3-day booth at the TreeCube and the hall from 22 to 24 August
• 领取报名表和家长同意书 Take application form and Letter of Consent from the organiser.
• 参与的同学们一定要得到家长同意! Students MUST HAVE parental consent.
让爱从"头"开始。Donate Hair, Donate Love.